Parts of a Computer
Talk

0
614pages on
this wiki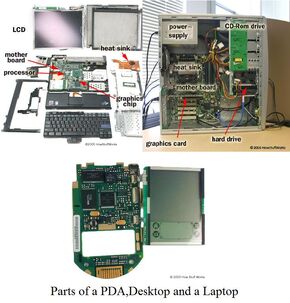 A Computer has several parts. A power supply, CD-Rom drive, heatsink, motherboard, processor, graphics card and a storage device as well as RAM and a BIOS chip.
A laptop is a lightweight version of a computer, usually with many external devices built-in, such as a keyboard, touchpas mouse, and LCD monitor.
A PDA has a minuture version of a CPU and RAM asswell as a minuture screan
The Motherboard
Edit
The motherboard is the most important part of the computer. It basically connects all the internal parts of the computer together and allows for external input.
The IO portsEdit

Most motherboards have IO ports, which allow for the various parts of the computer to output to a device, such as your monitor, which is probably connected to an HDMI, RGA, or a variation of the VGA.
Varieties of motherboards
Edit
There are many types of motherboards, designed to be used for up to a certain amount of RAM, or many graphics cards, or just to be as small as possible.
Expansion SlotsEdit
Expansion Slots are used for various "extra" things that are not required for the use of a computer, but are highly recommended. The types of things that use Expansion Slots are fans and graphics cards. Different motherboards have different types and amounts of these Expansion Slots, including PCI cards and PCI-e Express 3.0 x16 ports.
CPU SocketEdit
CPU sockets are probably the most unique thing on a motherboard, and it is highly recommended that you immediately check this detail if you are going to build a computer so that you don't get the wrong CPU. CPU sockets have two variables to keep in mind: the socket and the CPU type.
The CPU type determines what processors can be inserted into the CPU socket. Most Intel motherboards have something like a "i3/15/17" CPU type, meaning that an Intel i3, an Intel i5, and an Intel i7 can be fitted into the motherboard.
The socket type goes into further detail than the CPU type, explaining what socket type for the processor you need. For example, if it has an "LGA 1155", it probably means that it can use Intel i3s, i5s, and i7s with the LGA 1155 socket type will work with this motherboard.
Storage DevicesEdit
a Storage Device refers to the internal storage a computer has. The standard storage devices for most computers are HDDs and SSDs. Memory ports on a motherboard are usually divided into things like SATA 6GB/s, SATA 3GB/s, and RAID. The type of memory port usually will fit the description of the type of drive that will fit with it. (e.g. SATA 6GB/s = a SATA drive that runs at 6 gigabytes per second.)
Memory is sometimes known as RAM, (With the contents of the Storage Device subsequently being falsely called the "memory".) and is used for the temporary caching of data from the currently running programs. Although a portion of a storage device can be used as backup for if the machine runs out of available RAM, (this is usually referred to as the "paging file") but it is usually not as fast.
Keep in mind that this may not be the entire list, because some motherboards may have special features. Only the bare minimum is listed.