The Moto 360 is a smartwatch made by Motorola. Unlike most other smartwatches the Moto 360 is circular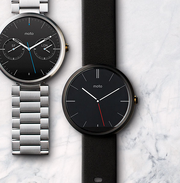 in shape rather than cubed. It has a single button on the right side that works as a power button and a back button. While the body is completely round, the screen has a small black bare out at the bottom to hide a light sensor. The device runs Android wear and has a heartrate monitor.
Ad blocker interference detected!
Wikia is a free-to-use site that makes money from advertising. We have a modified experience for viewers using ad blockers

Wikia is not accessible if you've made further modifications. Remove the custom ad blocker rule(s) and the page will load as expected.