A Desktop Computer or Desktop is a computer designed to sit on a person's desk.
Desktops first appeared in the late 1970's as a process of putting technology in people's homes.
1980-1989
Edit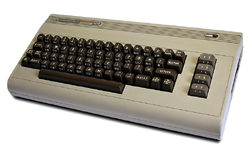 In the 1980's, desktops started to become more popular among home and office users. New OSes started to appear in computers.
Such OSes include:
1990-1999
Edit
In the 1990's there are more OSes. There are also new types of computers made for those systems.
Desktops now have a competitor; The laptop.
Comparison
Edit
| Feature | Desktop | Laptop | Netbook | Pocket PC's |
| --- | --- | --- | --- | --- |
| Heat sink | Does not overheat; the central heat sink bows off all/most heat generated. | Laptop blows away 1/4 of heat generated. | Ventilation only | Does not produce much heat. |
| Speed | Can go very fast (up to 6GHz) | Batteries slow down speed, AC boosts it's speed. | Very Slow | (same as Netbook) |
| Screen | Big and wide (max 32") | Medium (max 21") | Small (max 8") | Very Small (max 4") |
Ad blocker interference detected!
Wikia is a free-to-use site that makes money from advertising. We have a modified experience for viewers using ad blockers

Wikia is not accessible if you've made further modifications. Remove the custom ad blocker rule(s) and the page will load as expected.