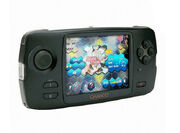 The GP2X Caanoo, branded as CAANOO, is an open-source, Linux-based handheld video game console and portable media player developed by the South Korean company GamePark Holdings. It was released on August 16, 2010 in South Korea, United States and Canada, and were also sold throughout Europe. It is the successor to the GP2X Wiz, and was showcased at the Electronic Entertainment Expo 2010. The device's launch price was about US$150.
The Caanoo is not a direct competitor of handheld consoles like Nintendo DS or PSP, but rather an alternative open source device. Because of that, any software that is compatible can be run without the need of creating custom firmware or other homebrew applications. This is the last open-source gaming device by Gamepark Holdings, as they ceased production and development of gaming hardware to focus solely on software.
Video Reviews
Edit
Ad blocker interference detected!
Wikia is a free-to-use site that makes money from advertising. We have a modified experience for viewers using ad blockers

Wikia is not accessible if you've made further modifications. Remove the custom ad blocker rule(s) and the page will load as expected.